Dr.Bob's Delphi "Commodore" News
Note:
This section of Dr.Bob's Delphi Clinic is devoted to news about the upcoming Delphi "Commodore".
2011/04/08 - Delphi 64-bit compiler
The Delphi 64-bit Compiler Sneak Preview is now available with information and a first look at the 64-bit compiler in action and an opportunity to join our beta test program or be notified when the new version is available.
---
2010/08/12 - New RAD Studio Roadmap
An updated RAD Studio, Delphi and C++Builder Roadmap is published on the Embarcadero Developer Network.
---
2010/05/10 - RAD Studio Roadmap
Embarcadero has just published the new RAD Studio Roadmap. This Roadmap includes information on the upcoming Delphi Fulcrum, supporting both Windows and Mac OS X application development, Delphi Wheelhouse (adding Linux support), the 64-bits Compiler Preview (early 2011), Delphi Commodore (the full 64-bits version) and project Chromium.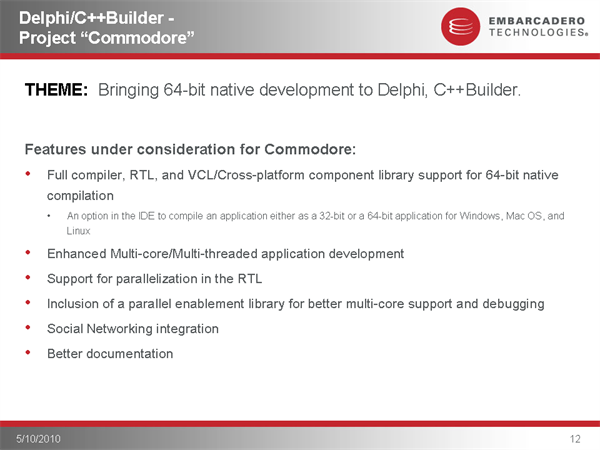 Before the real 64-bits Delphi Commodore will be released, we will first get a preview 64-bits compiler: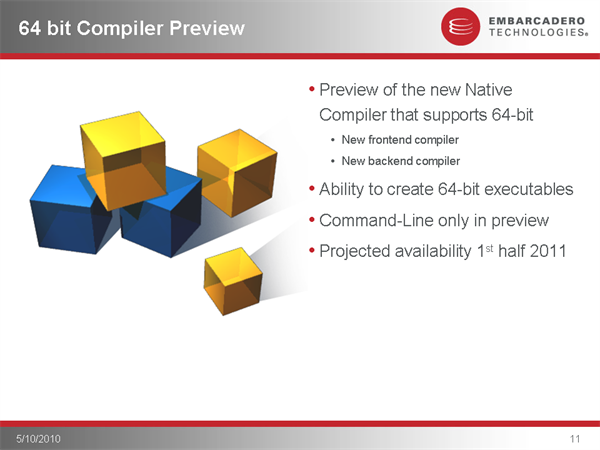 This preview compiler is currently scheduled for the first half of 2011.
---
2009/05/18 - Delphi Commodore Main Themes
Delphi Commodore is the codename for an upcoming version of Delphi with 64-bit native development as main theme:
64-bit Native
Full compiler, RTL and VCL support for 64 native
Multi-Core, Multi-threaded applications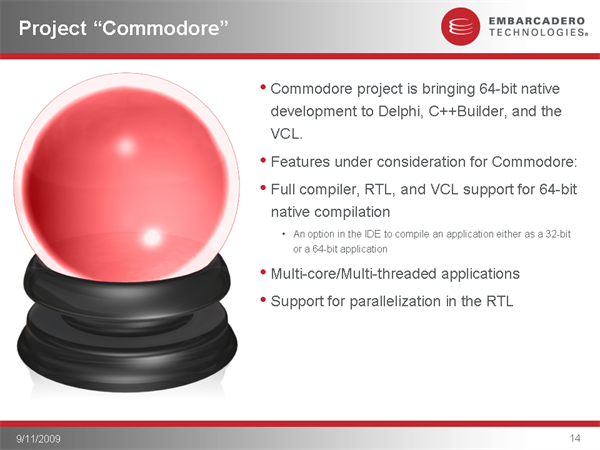 ---
2009/01/07 - The Future of the Delphi Compiler
Nick Hodges has published an article on Developer Network about the future of the Delphi Compiler. In this article, Nick talks about the Compiler Front End (the part that defines what the language is), with the idea to create a new Front End to offer a choice between a new, non-legacy syntax and the older way of coding (read the article to example of legacy syntax). New code would have to be put in a new type of code module (so it looks like there would be no mixing of code, although you may be able to use both kinds of modules in your projects).
Nick also talks about the Compiler Back Ends (one for Delphi, one for C++) which currently produce 32-bit binaries for Windows. A new Back End would be able to produce 64-bit for Windows, and should be shared by both Delphi and C++, and "a bit more flexible with respect to what architecture it targets" (or so Nick writes).
Doing a new Compiler Front End and unified Back End (for both Delphi and C++Builder) will take time. The team plans to release a preview of the 64-bit compiler (just the compiler, not the IDE) in mid-2009, and the final 64-bit version of Delphi should be ready min-2010.
---
2008/12/16 - "A year in the Life of Delphi"
Pawel Glowacki blogs about Nick's webinar about "A year in the Life of Delphi". Read this blog post if you missed the webinar.
---
This webpage © 2005-2017 by Bob Swart (aka Dr.Bob - www.drbob42.com). All Rights Reserved.